If visiting Vietnam a very interesting natural tourist destination that you cannot ignore is Ban Gioc waterfall. Ban Gioc Waterfall is majestic as a picture in the heart of the mountains. VNATRIP summarizes the fullest experience of Ban Gioc waterfall tourism through the article below!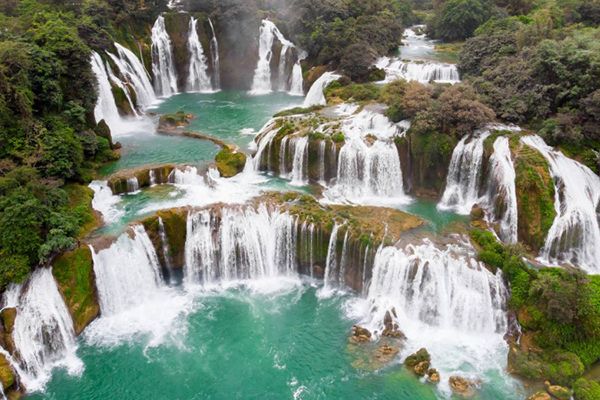 1. Where is Ban Gioc waterfall?
Ban Gioc Waterfall is located in Trung Khanh District, Cao Bang Province, Vietnam about 370km from Hanoi City and 70 km from the Cao Bang city center. This is known as the most beautiful waterfall in Vietnam with successive cascades, spreading to hundreds of meters.
2. What is the best time for traveling to Ban Gioc waterfall?
The climate in Ban Gioc is divided into 2 distinct seasons: rainy and dry seasons. The rainy season is from June to September, while the dry season is from October to May.
During the rainy season, the water will release white foam, but a large amount of water can cause floods and it is quite dangerous, so you should not visit Ban Gioc waterfall at this time.
The dry season is the most suitable time to visit Ban Gioc Waterfall, at this time, the waterfall is peaceful and clear, combined with the golden rice season at the foot of the waterfall, creating beautiful scenery.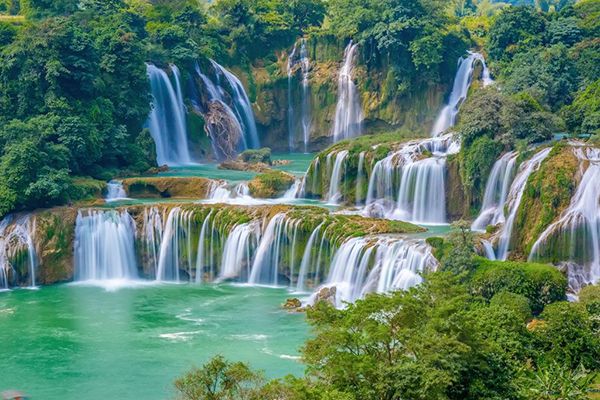 3. How to get to Ban Gioc waterfall?
You can go to Ban Gioc waterfall by coach, motorbike or private car.
• By coach: You can go to My Dinh or Gia Lam bus station to catch the coach to Cao Bang city (about 300 km from Hanoi). It takes about 8 - 9 hours to go from Hanoi to Cao Bang City. When arriving at Cao Bang bus station, you continue to take a minibus to Ban Gioc or rent a motorbike, taxi goes to Ban Gioc waterfall. ( you can look and book a bus from Hanoi to Ban Gioc waterfall with VNATRIP)
• By motorbike: you can choose one of the following 2 routes to move to Ban Gioc waterfall with the most reasonable route.
* Route 1: Hanoi city - Thanh Tri Bridge - Hanoi Thai Nguyen Expressway - move into Bac Kan province - Highway 3 - Cao Bang center.
* Route 2: Take the old highway 3: Hanoi - Thai Nguyen - Bac Kan - Cao Bang.
• You can also rent a private car to facilitate the movement and take the initiative in time at a reasonable price. Currently, VNATRIP is providing a private car service to Ban Gioc waterfall, you can refer
4. Places to visit at Ban Gioc waterfall
4.1. Pac Po Cave
Pac Bo is a small village in Cao Bang province, northern Vietnam, 3 km from the Chinese border. "Pac Bo" means "source mouth" according to the local language.
Near this village is a cave, Pac Bo Cave in which President Ho Chi Minh lived for seven weeks, during February and March 1941, after returning from 30 years of exile. Consequently, it is now a tourist site.
In front of the cave, there is a small stream, clear, sometimes blue sky was named by Uncle Ho - Lenin stream.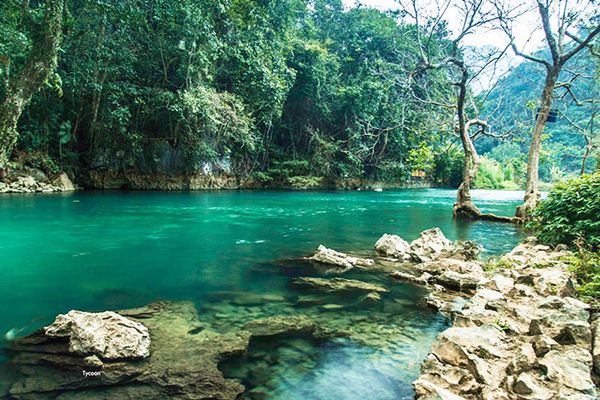 Thang Hen Lake
Thang Hen Lake is the most beautiful lake among 36 large and small lakes in the mountainous region of Tra Linh district. It is famous for its beautiful scenery and green water. Located about 50 km from Cao Bang city.
If you come to Thang Hen in the season of ripe rice, you will be able to see the beautiful golden ripe rice strips like a giant woven rug from the Creator's hands and "feel satisfied" with the smell of fragrant young rice. stimulating sweetness.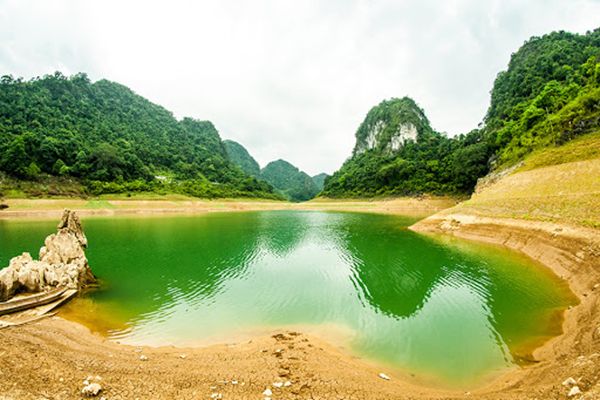 Nguom Ngao Cave
Nguom Ngao Cave is a cave located in Gun village, Dam Thuy commune, Trung Khanh district, Cao Bang province, Vietnam. This cave is located in the heart of a mountain, 5 km from Ban Gioc waterfall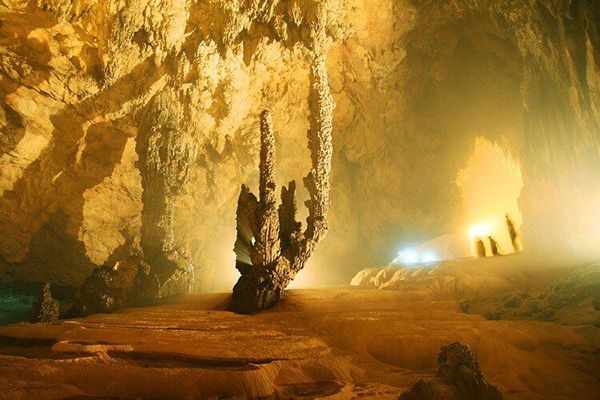 Entering the cave, visitors will be overwhelmed by the fascinating beauty created by the yellow stalactites. Numerous stalactites grow from the bottom up, from the high arches hanging down to many shapes, reflecting the shimmer and magical light.
THANK YOU FOR READING