What is Bai Tho Mountain?
Referring to the place of Halong, many people will immediately think of Halong Bay, one of the 7 new natural wonders of the world. But this is not the only destination that attracts you when coming to this coastal city. This famous mountain is a familiar check-in place for young people to dragon land. For the people of Quang Ninh, Poem Mountain is located in the heart of the romantic Halong Bay, a proud historical place with beautiful natural scenery.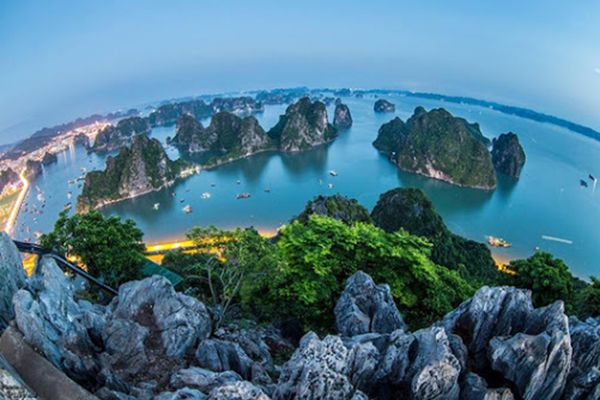 The mountain is 200m high compared to the sea level, although not too high, it is enough for tourists standing on the top of the mountain to have a panoramic view of Quang Ninh city as well as the entire Halong Bay. Conquering Poem Mountain is not too hard or exhausting as many people think. Because this mountain is not too high, it will only take you about 30 minutes to be able to set foot on the top of the mountain. The best time to see the scenery is at sunset and at sunrise. If you intend to catch the sunrise, climb from about 4:30 am and around 16:00 if you want to catch the sunset.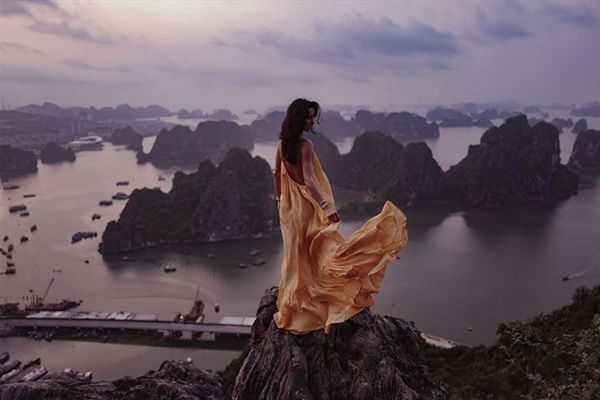 This is a place for you to experience a bit of adventure, the ideal place to unleash admire the panoramic view of the natural wonders of Halong Bay, looking out to the sky and the beautiful sea in the Northeast. Visitors are spoiled to take beautiful pictures and artistic images. Standing on the top of the mountain, you will burst with indescribable emotions before the magical beauty of the undulating rocks in the middle of the blue sea. You will also find luxury yachts gliding smoothly around the bay, a few canoes soaring through the eye and there are colorful kayaks. Then, when you look up at the clear blue sky and white clouds you can see wings of birds flying around. All that will give visitors the opportunity to explore Halong in a unique, novel and interesting way.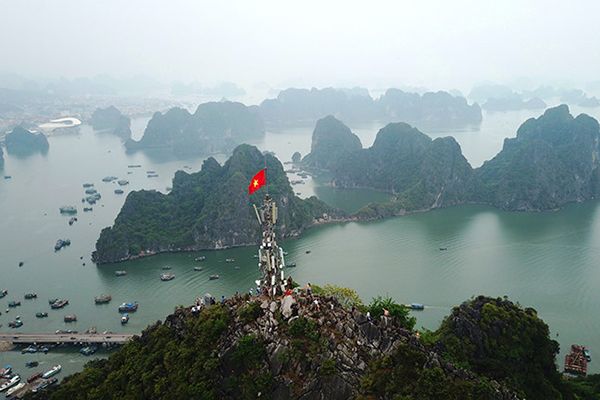 On the highest peak of Poem mountain, there is a red flag with a yellow star fluttering from the years of resistance against France, a reminder of the tenacious tradition of the Vietnamese people. On the journey to conquer the summit of Poem Mountain, visitors can see hundreds of undulating limestone mountains associated with the legend of the Dragon land. At the foot of the mountain, tourists also visit Long Tien Pagoda and Duc Ong Temple.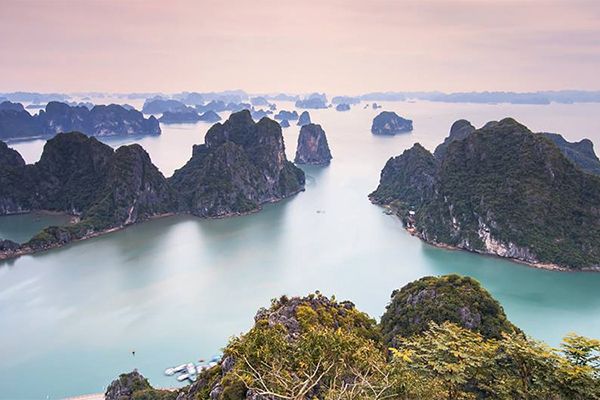 At night, you can not only watch the moon shining brightly in a corner of the sky, the twinkling stars are flashing, but also the mysterious Bay in the dark night. Besides, Halong City is shimmering with lights. The air here is fresh and cool all year round, so at any time you can take a climbing trip, conquering the peak of Bai Tho. You will enjoy, immerse yourself in nature, feel peaceful and take shimmering, unique photos!

THANK YOU!