Hanoi Travel Guide - Thing to do in Hanoi
Hanoi considered the heart of Vietnam possesses a great deal of Vietnamese cultural cachets. Not only is Hanoi famous for breathtaking scenic spots and delicious food but it also owns some typical features. It's grace, elegance, and sophistication in every sentence or gesture of habitats. Due to the combination of scenery and human, Hanoi become one of the attractive destinations to tourists. Here are some suggestions for a perfect trip to Hanoi that you can refer to.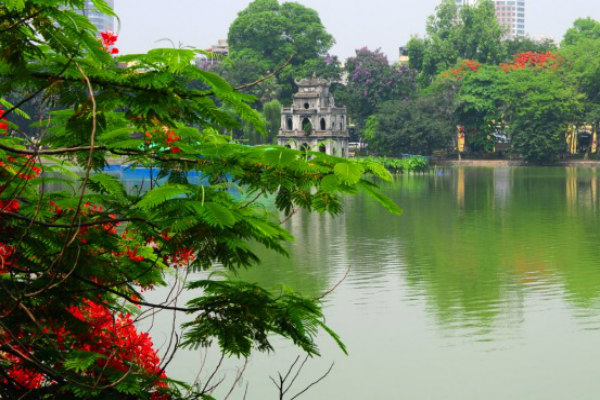 1. When should tourists visit Hanoi?
Hanoi is located in the tropical humid monsoon climate, so there are two distinct types of weather: hot and humid, rainy in summer, and dry, cold in winter. Thus, you should travel to Hanoi in the autumn of early September until the end of November, this is a pretty cool time without sunshine, very convenient for visiting. However, coming to Hanoi in the winter is also very interesting. Feeling the cold and enjoying the typical dishes is also a very attractive suggestion.
2. What destination should guests go to in Hanoi?
You have many different options of location when visiting the capital from cultural venues, romantic locations to entertainment venues ...

- Ba Dinh Square & Uncle Ho's Mausoleum: is a must-see place when visiting Hanoi. The historic Ba Dinh Square is the place that Uncle Ho read the declaration of independence establishing Vietnam. Uncle Ho's Mausoleum, where protects the mummy of Ho Chi Minh- the greatest president of Vietnam, opens five days a week, on all mornings Tuesday, Wednesday, Thursday, Saturday, and Sunday from 7:30 to 10:30. When visiting here, you should pay attention to dress modestly.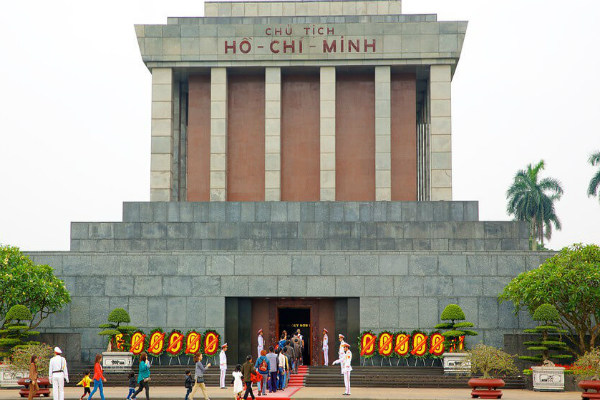 - Temple of Literature: which is the first university in Vietnam, nowadays, it becomes a destination for many tourists, especially foreign visitors. The Temple of Literature is located in Dong Da District. Specifically, it is in the middle of the four main streets including Nguyen Thai Hoc, Ton Duc Thang, Van Mieu, and Quoc Tu Giam. Currently, tourists and people visiting the Temple of Literature must buy an entrance ticket. The adult ticket price is VND 20,000 and the child ticket is VND 10,000. This is a fairly cheap price and applies to both Vietnamese guests and foreign guests.

- Hanoi Opera House: Located on Trang Tien Street, a central street of the capital, where are often held major events of the country. You should come here at night to enjoy the crowd and drink some juice.

- Hoan Kiem Lake: Considered as a "flower basket" in the heart of the capital, associated with the history of the nation. This has become a destination for many people, you can enjoy the cool scenery of Trang Tien street or eat Thuy Ta ice cream next to Hoan Kiem Lake. In addition, Hanoi has many interesting attractions such as Tran Quoc Pagoda, museums, ... you can refer to our tour to discover more about Hanoi.
3. Where are you staying in Hanoi?
Depending on what accommodation in Hanoi you're looking for, one or more of these areas may appeal to you as the best location to stay in Hanoi
3.1. Hanoi Old Quarter (Hoan Kiem)
The Old Quarter is an area that is always busy as tourists and locals alike come here to sell goods and food. It's ideal for travelers who want to be close to it all, want to enjoy the nightlife, and have great authentic food around. This area has accommodation for all budgets. This is also the best area to stay in Hanoi
Tip: All tours only pick up / drop off in this area
Click here to see all our tours depart from Hanoi Old Quarter.

3.2. Hanoi West Lake ( Tay Ho )

West Lake is a popular ex-pat area but also where a lot of visitors stay. The area is packed with restaurants and it is quieter with Buddhist temples and a few attractions in the area. Accommodation is not as common here as in other areas and is more expensive. This area to Hanoi Old Quarter is about 3-5km
3.3. Stay in a 5-star hotel
In Hanoi, there are 16 five-star hotels, most of them are far from the old town so if you intend to join the tour, the car will not pick up / drop at the hotel.
4. What food should be eaten?
Here are the famous dishes you should not miss when traveling to Hanoi:
4.1. 'Pho' is a long-standing traditional food that tourists cannot ignore when coming to Hanoi. People often say "If you come to Hanoi without enjoying 'Pho', it means you have never been here". You can find the small burden on the sidewalk or enjoy the famous beef noodle soup, chicken noodle soup on Quan Thanh street, or the pan-fried Pho on Bat Dan street.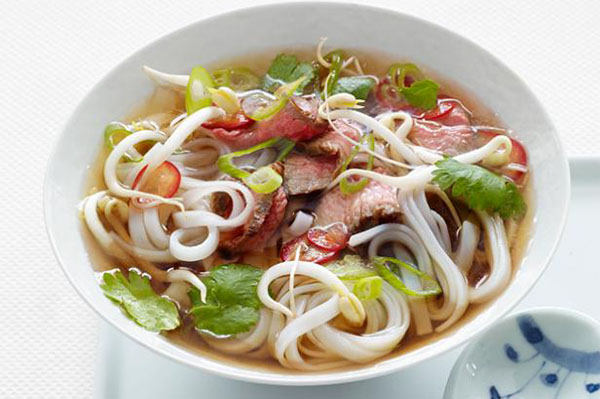 4.2. La Vong grilled fish is a unique dish of the Ha Thanh people for many generations. Fish cakes served with tangy noodles, baked pies, roasted peanuts with herbs, spices with a strong, sweet, and greasy flavor. Address: 14 Cha Ca street and 107 Nguyen Truong To. The price of a La Vong grilled fish is VND 175,000 per person.

4.3. Referring to the delicious food in Hanoi, it is impossible not to mention 'Bun cha'. Scorched grilled chops marinated with spices mixed with green papaya cut pieces to eat with tangled noodles, fresh raw vegetables. The old quarter area includes 'Bun cha' Hang Manh street (near the intersection of Hang Quat and Hang Non), Bun cha Duong Thanh (near Hang Bong), and Bun cha 47C Mai Hac De ...

4.4. Vong village rice cake, a dish from ancient times, often appears in the ceremony. Fresh green crust with green bean paste and yellow beans along with the typical aroma of young nuggets make a typical smell. In addition, you can try more West Lake shrimp cakes, bun dau mam tom or spring rolled…
5. What to buy in Hanoi?
5.1. Vietnamese coffee bean: If you are the kind who likes starting the day with a satisfying cup of coffee, then tasting various Vietnamese coffees available in Hanoi is a must. You can easily buy coffee beans at many shops selling coffee beans in the old town

5.2. Souvenirs: Popular Hanoi souvenirs include propaganda posters (reproductions of war-era and Communist-style posters), Dong Ho's Folk Paintings, ceramics… Hanoi is also known for its silk and lacquerware, which have traditionally been produced in villages around Hanoi for centuries.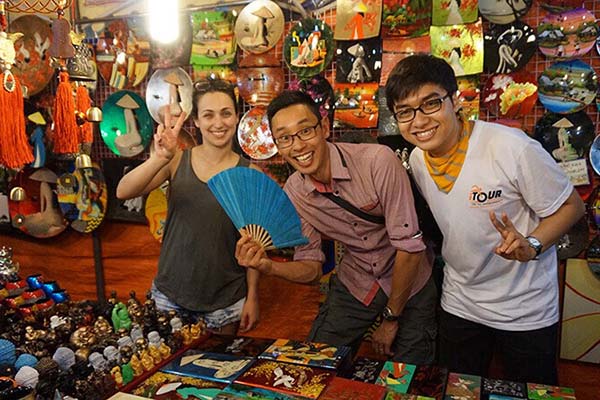 5.3. Ao dai (Traditional dress) is the national costume for both men and women in Vietnam. This traditional long dress is now worn mainly by women. Ao dai is a tight and long tunic, normally made of silk, worn over pants. An ao dai is an essential outfit in every Vietnamese women's wardrobe but it also makes a great gift for your sister, mother, wife, or girlfriend. You can select an ao dai from numerous colors, designs, and qualities. You'll find ready-to-buy as well as customized ao dai in many parts of Hanoi.
6. Things to keep in mind when traveling to Hanoi
6.1. Crossing the road
the city with more than 8 million people, traffic in Hanoi is a big surprise for everyone - The city was dubbed the "city of motorcycles". All you need to cross the road is to slowly merge into the car under the road, pay attention, do not hesitate, do not stop, do not text my phone, or view a map when crossing the road. Traffic will automatically adjust and avoid you.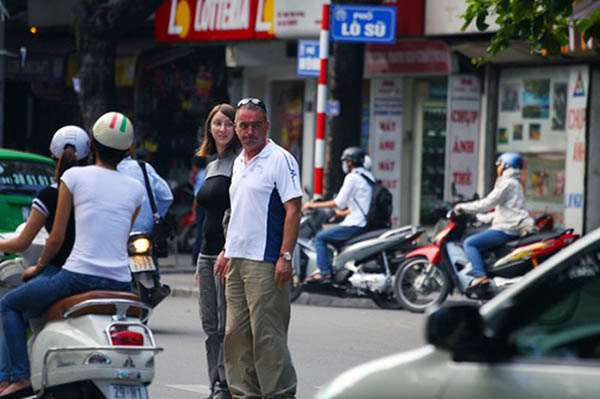 6.2. Currency
The monetary unit of Vietnam is VND. The value of VND is quite low compared to other currencies in the world, so there will be a lot of 000 attached behind. There is no way that you have to remember the colors of the coins or ask your acquaintances in Hanoi such as hotel staff, staff who provide tours for you.

6.3. Be careful with the fake taxis
At the airport, there are a lot of fake taxis. You should book the car of travel companies to avoid being overcharged. Please negotiate the price before deciding to book a car because the driver can drive illegally and charge a lot higher than in reality. Or you can use car booking apps: Grab, Uber…

In conclusion, the above are some effective information for traveling to Hanoi. It is worth trying once in your life if you have a chance in Hanoi. Hope you enjoy this article and have a nice trip.