Where is Halong Bay? 7 best places to visit in Halong Bay
Halong Bay - one of Mother Earth's most amazing natural wonders, is located on the Western side of the Gulf of Tonkin in Northeastern Vietnam. Halong Bay is famous for its most wonderful islands, caves, and beaches where tourists will be overwhelmed with Halong Bay's natural beauty. This post will show you the 7 best places to visit in Halong Bay.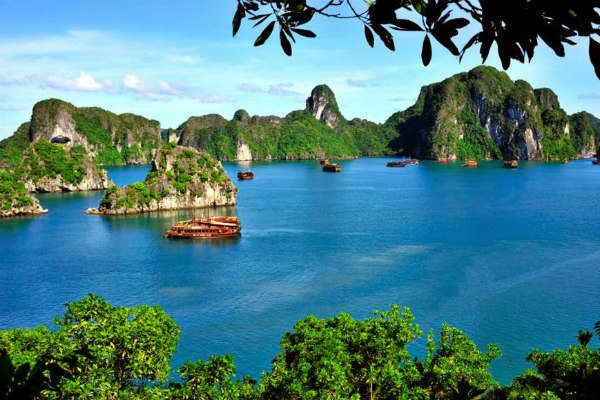 1. Bai Tu Long Bay
Bai Tu Long Bay occupies three-quarters of Halong Bay World Heritage site, as well as many islands in Van Don, Cam Pha District. Traveling to Bai Tu Long Bay is off the beaten track and promises to deliver many unique experiences, far from the heavily touristic sites.
The tropical climate of this Bay has divided its weather into two distinct seasons, specifically, hot and humid summer, cold and dry winter. The beautiful beaches around the Bay are perfect places for those who are obsessed with swimming and surfing.
2. Vung Vieng Fishing Village
Vung Vieng fishing village is about 25km from the mainland. The village owns a pleasant, peaceful location with charming scenery. Floating villages are one of the most popular Halong Bay attractions, and of the four remaining intact, Vung Vieng Fishing Village is easily the favorite.
After disembarking the mother boat, you will be transferred by rowing boats, tender boats, or doing kayaking to enter the Vong Vieng fishing village. Besides, you not only have a chance to experience the villagers' daily life but also the traditional culture and customs of the fishermen.
3. Sung Sot Cave
Being one of the widest and most special caves of Halong Bay, Sung Sot Cave is located in the center of the Bay, inside Bo Hon Island. After passing through a rocky slot and entering inside, tourists will be surprised by the huge expansion of the area inside. Walking through steep stone steps, tourists may have the feeling of climbing mountains and experience the excitement as if they are stepping into the sky.
Having the stunning beauty, Sung Sot Cave was voted as one of the 10 most beautiful caves in the world by the Association of Tour Operators and Travel Agencies of Czech in 2012. This Cave promises to be one of the most interesting attractions in Halong.
4. Tuan Chau Island
Tuan Chau Island is located northwest of Halong Bay, 8 km southwest of Ha Long City. The entire area only covers 2.2 kilometers, but despite its size, Tuan Chau Island packs a punch. It is well known for soft sand and cool water at both the beaches which are on either side.
Like any other part of the northern region of Vietnam, Tuan Chau island has four distinctive seasons: Spring (Jan-March), Summer (Apr-Jun), Autumn (Jul-Sept), and Winter (Oct-Dec). But If you want to experience the best of Tuan Chau Island, you should be aiming for a trip around September-November or in March. This is a dry spell season of the island.
5. Titop Island
In contribution to the magnificent beauty of Halong Bay, Titop island is a perfect harmony of nature. The beach on the island is one of the most organized in all of Halong Bay for tourists, with deck chairs, cool drinks, souvenirs, and freshwater showers available.
Titop Island sits at the heart of Halong Bay, just 8 kilometers to the southeast of Bai Chay Harbour. It can be visited as a stand-alone day trip or as part of a tour operated by one of the Halong Bay cruises. Do not miss the chance to pass by this wonderful place when visiting Halong Bay.
6. Thien Canh Son Cave
Thien Canh Son is a fairly wild cave located on Bai Tu Long Bay and Halong Bay in the Cong Do conservation area. This is also an interesting destination for Vietnamese and international tourists thanks to its natural beauty, pristine limestone stalactites, and surrounding landscape.
Inside the cave, visitors have the opportunity to enjoy the strange beauty of the limestone basalt formed thousands of years ago creating unique images such as an image of a lotus and an image of the foal. The ceiling of the cave is covered with a layer of shiny "carpet", countless glittering stalactites appear like "hanging lights", "stone statues", "stone elephants", "seals", "flowers" - It all seems to create a fantasy world, as if in a dream.
7. Cat Ba island
The scenery of the beautiful white sand beach and the limestone cliffs jutting out of the water will make you flutter. It is also famous for adventurous activities such as climbing Hon tilt, trekking the national park, climbing unprotected cliff climbing, ...

If you get a chance to visit Halong Bay, just follow the tours of VNATRIP to have the most wonderful experiences! For further information, please access our website at...or contact...

HAVE A GOOD TRIP!