Ninh Binh Travel Guide - Everything You Need to Know About Ninh Binh
Only about 100km from Hanoi to the south, Ninh Binh is an attractive destination for domestic and foreign tourists with many attractive attractions, wild beauty along with many famous spiritual and cultural tourism sites. . Most people coming to Ninh Binh are amazed at the beauty and gentle beauty but also very magnificent with a series of famous landscapes such as Trang An, Tam Coc-Bich Dong, Van Long lagoon, ... Each one destination Ninh Binh has its beauty and attraction, so many tourists choose for their vacation.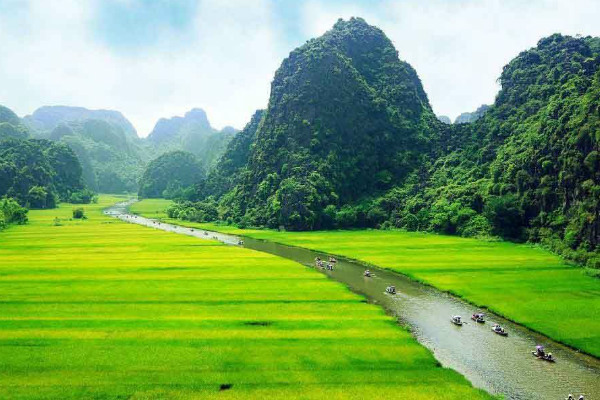 1. Best time-traveling Ninh Binh
You can travel to Ninh Binh in all seasons, but the best time to go is from October to April. This time is the winter and spring in Vietnam, the weather is very comfortable, not too hot, also not too cold, the temperature ranges from 15 - 25C and more than half of this is also the high season tourist in Vietnam. In addition, if you have the opportunity to come here in late May and early June is the time of the ripe rice season in Tam Coc you will find great rice fields.
2. How to get Ninh Binh From Hanoi?
Book a tour: Perhaps the easiest and the cheapest way to travel from Hanoi to Ninh Binh is to book a tour with us. Our program reaches the most prominent features of Ninh Binh
Click here to see all our tours to Ninh Binh.

Bus: Ninh Binh is only about 100km from Hanoi so the bus ride to Ninh Binh is relatively easy, the fare is about VND 120,000.
Train: You can also choose a train to come to Ninh Binh but it is quite inconvenient and takes a lot of time because you take the waiting time at Hanoi Station and the train does not come to the tourist ddiemr so you have to spend more money to move to tourist destinations

Motorbike: If you like the experience, you can rent a motorbike in Hanoi to Ninh Binh to take about 2 hours by motorbike. Note that traffic in Vietnam is very complicated, please run at the allowed speed and equip necessary personal belongings to ensure your safety!
3. Thing to see in Ninh Binh
3.1. Tam Coc
Tam Coc means that 3 caves are a famous scenic spot of Ninh Binh, which are like "Halong Bay on land". 7km south of Ninh Binh city center. Here you have the opportunity to sail along the Ngo Dong River passing thousands of limestone mountains along the river creating very majestic scenery, caves, and especially rice fields on both sides.
Ticket price: 150,000 VND / Person
3.2. Trang An
This place is recognized by UNESCO as a world natural and cultural heritage. With the pristine natural landscape created from the river running through the limestone mountains, interwoven with fanciful, mysterious caves. Like Tam Coc to Trang An, you will also have the opportunity to row a boat to explore Trang An but the time to visit is long. Especially, if you come here in the fall, you will admire the lotus flowers (lotus) making the space more romantic and wonderful.
Ticket price: 200,000 VND / Person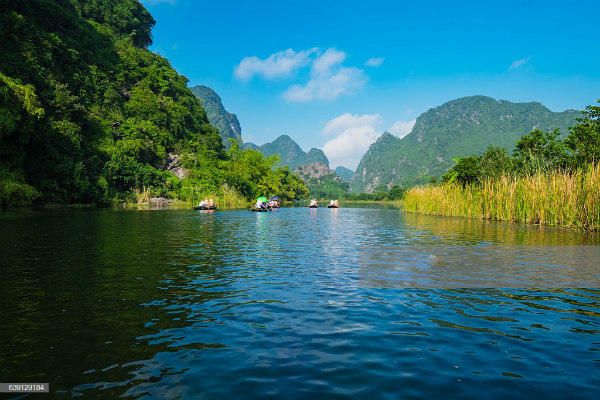 3.3. Bai Dinh Pagoda
The next place you can not ignore if traveling to Ninh Binh Bai Dinh Pagoda is the largest temple in Vietnam possessing many records such as the largest bell tower in Vietnam, the largest Maitreya statue ... where This is considered the center of Buddhist culture of Vietnam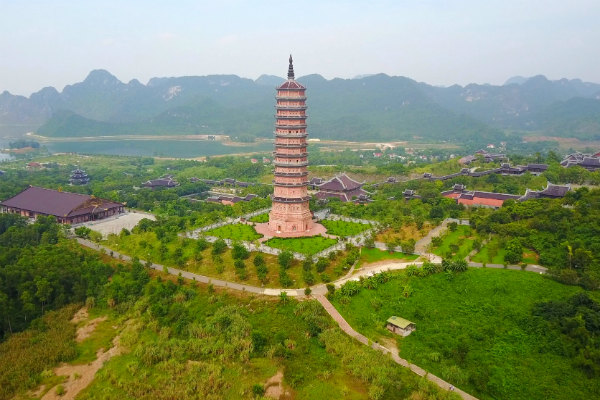 3.4. Hoa Lu Ancient Capital
The ancient capital Hoa Lu was the capital of Vietnam in the past and it is a particularly important national monument complex and one of the four core areas of the Trang An World Heritage Site. Hoa Lu ancient historical relic site now has a planned area of 13.87 km² in Ninh Binh province. With a thickness of more than 1000 years, the ancient capital Hoa Lu is a place to store historical relics through the ages.
Ticket price: 20,000 VND / Person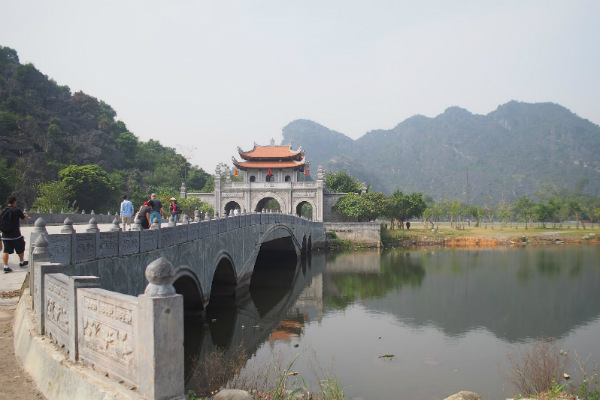 3.5. Mua Cave
Mua Cave is the most attractive destination for you, especially the young. Mua Cave is located under Mua Mountain, in Ninh Xuan Commune, Hoa Lu District, Ninh Binh. This place was built in imitation of the Great Wall of China - with 500 stone steps to go up. This place is favored by tourists and is chosen a lot in the ripe rice season because from the top of the Dance Mountain you can see the panorama of the rice field and the Ngo Dong River in Tam Coc and Ninh Binh City.
Ticket price: 100,000 VND / Person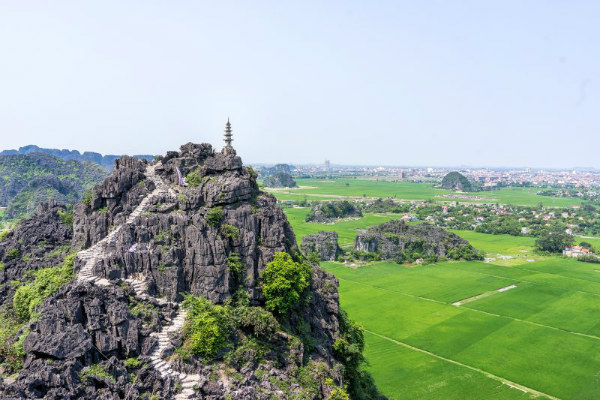 In addition to the above points on the harbor, Ninh Binh has many attractive destinations you can refer to such as Cuc Phuong National Park, Am Tien Cave - Great Tinh Coc, Van Long Nature Reserve, Lava Bird Park...
4. Where to stay when coming to Ninh Binh?
Ninh Binh is so famous that a question about where to stay in Ninh Binh becomes a problem that makes people remember. To answer this question, we will divide it into 2 areas and accommodation options for the different attractions of Ninh Binh, ultimately deciding depending on your choice and budget.
4.1. Ninh Binh City
As the center of Ninh Binh province, there are many hotels, homestays, and inns for all types of tourists. Traffic connections to all locations of the province can be accessed from here, making it the focal point of Ninh Binh's accommodation.
4.2. In the Tam Coc area
If you feel like leaving Ninh Binh city and going to more rural areas, then perhaps choosing to stay in Tam Coc is your best choice for accommodation in Ninh Binh. Tam Coc village and its caves include a much more casual atmosphere than the city of Ninh Binh, with cheap places to stay in the middle of green and yellow rice fields.
5. What to eat when coming to Ninh Binh
Ninh Binh is famous not only for its beauty with many tourist destinations but also for its special and delicious food. The famous dishes here smell and taste with the taste of limestone mountains where locals raise animals. If you have the opportunity to visit Ninh Binh try the food in Ninh Binh. We would like to introduce you to the 5 best traditional dishes in Ninh Binh.
Note: The food is local and made from strange animals so some dishes will not be suitable for you, so please check before you eat
De Tai Chanh (Raw goat meat with lemon )
Xoi Trung Kien (sticky rice with ants eggs)
Bun moc (Rice noodle with "moc" soup)
Ninh Binh mountain snail
Rice crust ( Com Chay)
6. Things to keep in mind when traveling Ninh Binh
6.1. About Tips:
In hotels, restaurants, sights do not charge tips in your bill, tip is due to your choice, not cultural or compulsory in Ninh Binh. But when taking a canoe at Tam Coc and Trang An, the locals often love visitors to tip them so you can choose the boatman so that there is no unexpected problem.
6.2. Refuse firmly if there is no need
At famous tourist destinations, it is not difficult to see tourists being "stalked" by street vendors to buy items at twice the price compared to the real value. This makes many visitors extremely uncomfortable because they are bothered and they end up reluctant to pick up their bags to pay in exchange for a bit of peaceful space during the trip. So if you do not have any intention or need to purchase, please refuse to without any unexpected issues.
Hopefully, the above notes will help you gain useful knowledge for your vacation to Vietnam. Don't forget to contact us for a great trip as we provide all the tours in Vietnam.
HAVE A GOOD TRIP!