Trekking has now become a familiar form of tourism for domestic and foreign tourists, especially for the youth. One of the famous trekking places in Vietnam that you cannot ignore is Sapa. This article will give you a basic knowledge of Sapa trekking.
Why is Sapa among the most interesting trekking places?
Sapa has beautiful roads, winding around the town, leading into the villages of ethnic minorities. Along the way, you will admire the terraced fields brilliant yellow rice season, or "sea of clouds" surrounding Hoang Lien Son range as beautiful as foreground. So trekking in Sapa not only helps you feel comfortable after a stressful working day but also brings great experiences with the majestic nature here.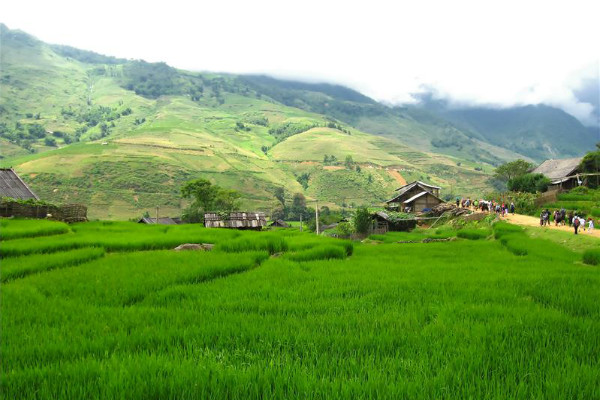 Which season is best to go trekking in Sapa?
Every season in Sapa has its beauties, so at every time of the year, trekking in Sapa will bring you interesting experiences. However, to prepare the most carefully you should understand the climatic conditions in Sapa at different times.

⇒From January to May is the dry season of Sapa. At this time, the weather in Sapa has started to warm up; Especially in March, the whole Sapa is brilliant by charming azaleas. Therefore, this is a very convenient time for trekking trips.

⇒June to August is known as the rainy season in Sapa so trekking at this time is not easy at all; You need to carefully prepare your belongings and skills to ensure safety for the trekking. But in return, to Sapa in June - July you will admire the fresh beauty of the green terraced fields.

⇒September - November is a good time for trekking. Sapa weather at this time is very cool, little rain; Amazing scenery with terraced fields with brilliant yellow color. And trekking Sapa during this time, you will have the opportunity to admire the sea of ​​clouds - one of the most attractive destinations for travelers visiting Sapa.

⇒From December to February of the following year, Sapa's temperature plummets, even below 0 degrees. Trekking at this time, you will encounter difficulties in weather conditions as well as slippery terrain. But in return, you are immersed in the white snow - the scenery is extremely rare in other places in Vietnam.
Some Sapa trekking roads that attract most people
Begin your 12 km trek on small trails down the Muong Hoa Valley toward Lao Chai village of Black H'mong ethnic people. Here you will discover their daily life and how they make traditional clothes, handicrafts, indigo...
After Lao Chai, you walk to Ta Van village of the Giay people. It is a small group of ethnic people in Vietnam with a rich culture and beautiful houses located on rice paddy fields.
Muong Hoa Valley
From a high point of the main road, a great view of the whole villages open wide to offer the marvelous panorama views, backed by high mountains and facing the river. Here you will enjoy the fresh air, see terraced fields and streams, discover and visit some of the Black Hmong families. You will have a welcome feeling at any house of the hospitable people there. You can interact with them, learn about their culture and customs.
Trekking Ta Phin
Ta Phin is a village in Sapa district, Lao Cai province. From the town center to the northwest, about 12 km from the town center. You can walk down the road from Sapa town to Ta Phin on your own or have a guide to this place. It's not quite difficult for you to trek this road.
Ta Phin has many famous tourist sites such as Ta Phin village, ancient Ta Phin monastery, Ta Phin cave.
Ancient Ta Phin monastery
In particular, you will experience the unique herbal medicine bath service of the Red Dao people, costing 80,000 - 100,000 VND / person.
Trekking Fansipan
A very popular trekking trip is the Fansipan mountain climbing tour with 2 days a night. At night, you will sleep in the mountains in a hut.
Trekking Fansipan you need to have a guide or a local guide because this route is very long and much more dangerous than Lao Chai - Ta Van or Ta Phin.
The price of renting a guide and camping is about 500,000 VND / person.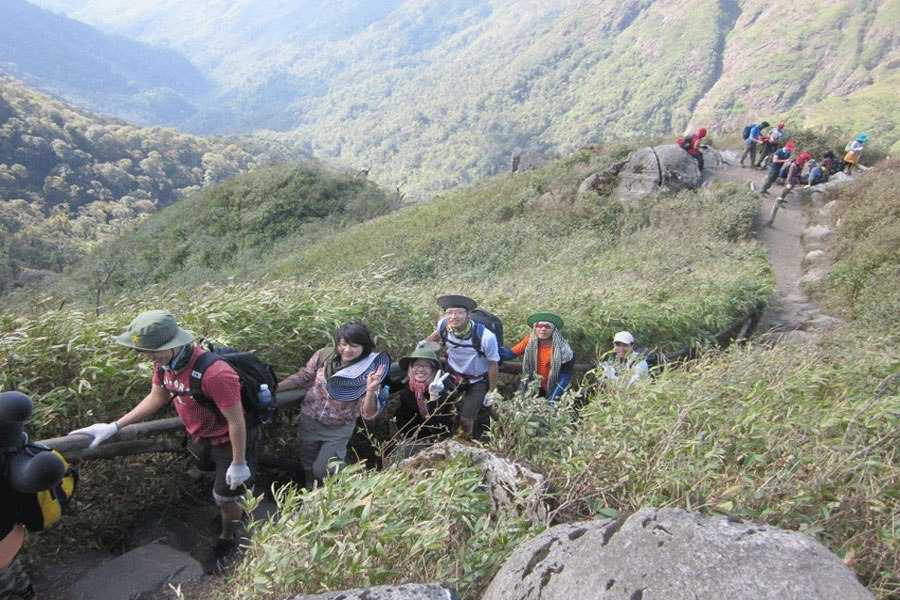 Things to bring with you when trekking
A good pair of walking shoes; Raincoat; Small water bottle; Snacks; Anti-bugs spray; Medication for minor wounds, some blisters of medicines for treating illnesses like flu, diarrhea, and fever; Camera with backup battery; Extra clothes
Also, you shouldn't bring too many things. A lightweight backpack will make hiking your few hours a lot more comfortable.
Hopefully, the above experiences will bring you wonderful moments during your Sapa trekking trip. Do not forget to refer to our Sapa trekking tours at the website ... or contact the tour booking at…

HAVE A GOOD TRIP!