Da Nang Travel - Everything You Need to Know About Da Nang
Da Nang is located in the central of Vietnam, 800km from Hanoi and 900km from Ho Chi Minh City. Da Nang, which has been dubbed the "most worthy city in Vietnam", is gradually becoming the center of the country in the field of famous tourism with beautiful beaches stretching, besides architectural works. Modern architecture imprints with the city's impression, along with a friendly and civilized tourism space, Da Nang deserves an ideal destination for any tourist. Let's learn about Da Nang travel experiences with VNATRIP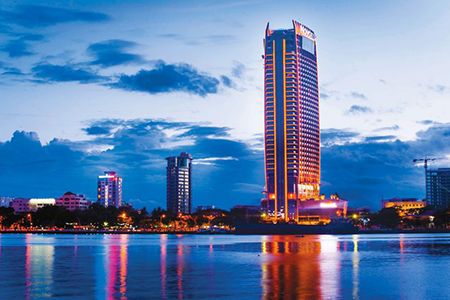 1. What is the appropriate time to travel to Da Nang?
What time is possible to travel to Da Nang? My answers you can come to Da Nang any time of the year. Each season of Da Nang has its beauty, bringing different feelings, but the best time to visit Da Nang is from February to May. This is a time when Da Nang is very beautiful, has pleasant weather, cool. There is little rain and it is convenient for sightseeing and relaxation.
From May to September is the high season of Da Nang tourism. At this time, Da Nang is a hot summer day with the hot sun but it is a suitable time for those who like to travel on the beach such as surfing, paragliding, swimming on the white sand of beautiful beaches.
From August to December is the rainy season, the climate will be more erratic and at the end of the year, there are usually a few cold climates of the winter. This season Da Nang is very empty so air tickets to here and the hotel will be very cheap You will be surprised. Air tickets at this time are only about 25 - 30 USD, 4-star hotels only about 35 USD
2. How to go to Da Nang?
Thanks to the development of the current infrastructure, coming to Da Nang is much easier and more convenient, you can refer to the following ways
2.1. Airplane
If you are traveling from Hanoi - Da Nang: A plane is the most suitable means to travel when traveling to Danang. Air tickets from Hanoi, Ho Chi Minh to Da Nang range from 40 USD to 50 USD at the time, from October to December the ticket price is very cheap only about 25 - 30 USD, However, on high ticket prices often pretty high and fast off. Airlines with routes to Danang are: Vietnam Airlines, Vietjet Air, Jetstar, Bamboo Airways
2.2. Train
If you take the train from Hanoi to Da Nang takes about 14-20 hours depending on the slow or fast train. Traveling from Saigon is longer because of the longer distance. The transport is time-consuming and also very expensive, which can be more expensive than air tickets so few people go but if you like to experience it, this is not a bad choice to move to Da Nang. Then I can enjoy the scenery outside the train window.
Ticket price:
Hanoi to Danang: 35 USD - 55 USD depending on the type of seat.
Sai Gon to Da Nang from 45 USD - 60 USD depending on the type of chair.
2.3. Bus
Buses to Da Nang are all beds. Traveling by bus takes a lot of time, but it saves money.
Ticket price: 20 USD
3. Vehicles in Danang
⇒ Rent a motorbike: this is the best means to go out in Da Nang, cheaper, more active. You can rent a motorbike from a homestay, $ 7 / day
⇒Grap: Traveling with Grab helps you be more convenient in terms of time and place, most importantly, you can know the amount to pay.
⇒Taxi: you can also use Taxi but we recommend negotiating with your driver in advance to avoid a bad case such as driving the wrong way, which makes you pay more than you do.
4. What is the best place to see in Da Nang?
4.1. My Khe beach
Referring to Da Nang, people immediately think of the blue beaches, stretching on the coast, not far from the center of Danang city only about 2km, you will find a beach "the most attractive on the planet". My Khe Beach is located in Phuoc My Ward, Son Tra District, Da Nang City. As one of the 6 beaches voted by Forbes magazine as the sexiest beach on the planet with fine, white, beautiful, and romantic beaches. Coming to Da Nang, make sure you do not miss the fun and relaxing time on My Khe beach.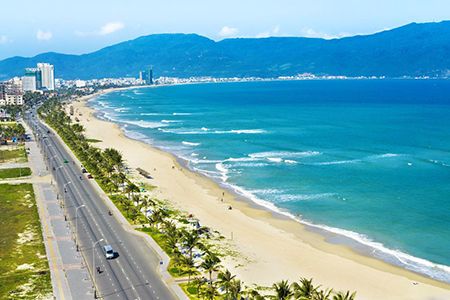 4.2. Ba Na Hills
Ba Na Hills is about 25 km from the city center, located in Hoa Ninh, Hoa Vang, Da Nang communes at an altitude of 1,489 m above sea level. This is considered one of the most prominent tourist destinations in Da Nang that anyone visiting Da Nang also visits. Located on the top of Ba Na mountain, it attracts tourists with beautiful scenery like the foreground and the world-class unique architecture and cable car system that has reached many world records.
Ticket price to Ba Na Hills:
⇒750.000 VND for adult tickets
⇒600.000 VND for children tickets
4.3. Cau Vang ( Golden Bridge )
The Golden Bridge in Da Nang has just been built with a novel design, attracting curious curiosity for domestic and foreign visitors. Da Nang tourist destination has been attracting a lot of tourists in recent times. Golden Bridge possesses a unique architecture with giant mossy hands that support the bridge like a ribbon above and this is one of the 10 most unique bridges in the world. Golden Bridge in Ba Na Hills tourist area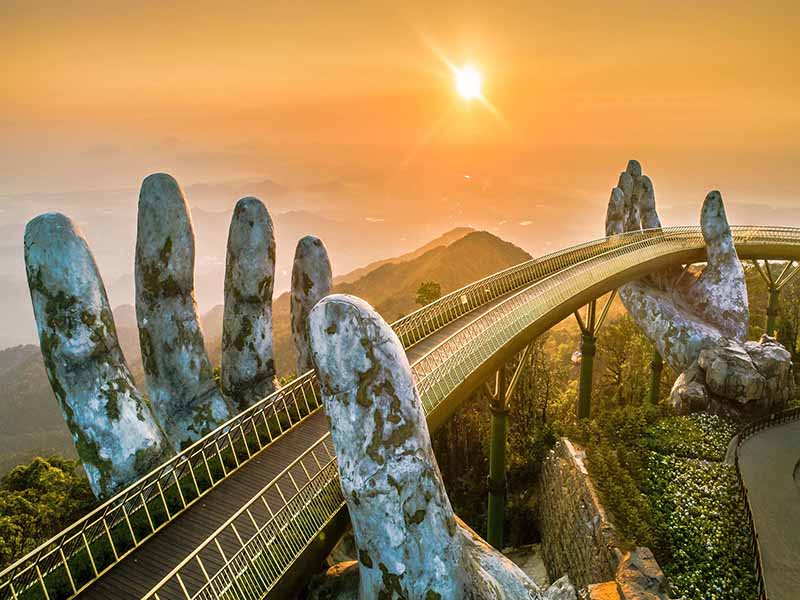 4.4. Marble Mountain
It is a landscape that consists of 5 limestone mountains on the coastal sand. This place is famous for fine art village, which produces many famous marble handicrafts at home and abroad. The remaining historical records indicate that before the Vietnamese came here, the Cham people worshiped their gods in caves and temples. The migration of Vietnamese people to this region brought with them Buddhist culture and beliefs, establishing more temples and pagodas, making this place very diverse and harmonious in its identity.
4.5. Dragon Bridge & Bridge of love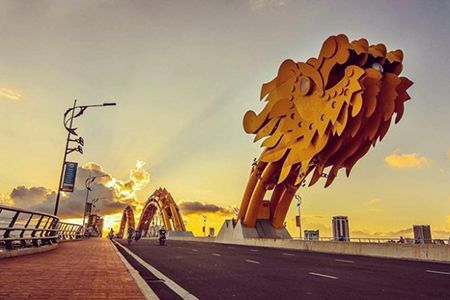 4.6. Son Tra Peninsula
As a combination of the only natural forest ecosystem in Vietnam, the Son Tra peninsula is 10 km from the city center with 3 sides bordering the sea. The climate here is very fresh and clean, according to scientific research, every day the forest here reproduces enough oxygen to provide 4 million people, a giant green lung of the city. This is also the home of many animals with 22 rare species listed in the red book, the most prominent is the primate population of about 300-400 individuals.
4.7. Than Tai mineral spring
Than Tai mineral spring has beautiful natural scenery combined with the unique mineral stream located in Ba Na Nui Chua conservation ecological tourism area. Here, you can admire, explore the majestic beauty of the mountains as well as mingle, relax, and attractive services such as mud baths, wine baths, ...
⇒Ticket price: 290,000
Address: Nui Than Tai hot mineral spring park - NH14G Hoa Phu commune, Hoa Vang district, Da Nang
In addition to the above points on the harbor besides Da Nang, there are many other beautiful beaches and attractive destinations you can refer to Han River Bridge, Linh Ung Pagoda, Han River Market...
5. where to stay when traveling to Da Nang?
5.1. Da Nang city
The best area in the city center here, which is a densely populated area with amusement parks, restaurants, bars you can easily visit Dragon Bridge and Han River Bridge ... Another advantage of the center of Da Nang city is the most hotels near the airport only about 3 to 5km
5.2. My Khe beach
My Khe Beach is probably your best choice if you want to enjoy the beauty of the beaches and watch the sunrise and the glorious beaches in Danang. My Khe beach is also very close to the central area, so you do not need to worry about choosing an area to stay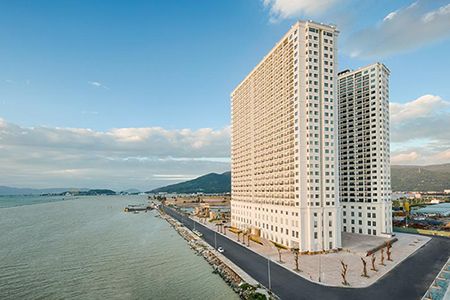 6. What to eat when traveling to Da Nang?
6.1. Quang noodle Soup
Quang noodle is a characteristic of Da Nang. Soup noodle with many kinds of shrimp, beef, chicken, ram ... spoiled for you to choose with your taste. Not much water like noodles or vermicelli, Quang noodles are full of water but very rich.
Address: No. 1A Hai Phong Street, Da Nang city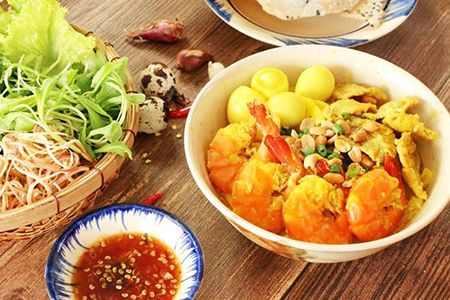 6.2. Pancake Pancakes - Vietnamese Noodles
If you have come to Da Nang, do not hesitate to try this banh xeo - spring rolls with bold central nature. Pancakes in Da Nang, especially in the sauce, eat aromatic, fatty peanuts, eat once and remember forever.
Address: K280 / 23 Hoang Dieu Street, Da Nang City (Ba Duong pancakes)
6.3. Fresh Seafood
Da Nang is a coastal city so it is a pity if you go to Da Nang without eating seafood. Coming to the seafood restaurants in Da Nang, you will be going to a fresh seafood selection area to choose the types of seafood you want to eat, they will be taken to the on-site processing kitchen.
Address: No. 98,100,102 Le Dinh Duong Street, Hai Chau District, Da Nang City (Ba Thoi Seafood)
6.4. Fish salad (Fish salad)
Da Nang is famous for Nam O fish salad, there are 2 types of dried fish salad and wet fish salad. Wet fish salad is so spicy but delicious if you do not know how to eat spicily, eat dried fish salad. Wet or dry, it also has a good taste depending on the taste of each person.
Address: No. 232 Tran Cao Van Street, Thanh Khe District, Da Nang City

Hopefully, the above notes will help you gain useful knowledge for your vacation to Vietnam. Don't forget to contact us for a great trip as we provide all the tours in Vietnam.