Pancake is a familiar dish of Hanoi people with a strong, delicious flavor. This is also a favorite snack of many people, loved by many foreign diners when visiting Hanoi. The eye-catching yellow, patchy with a few bites of fried dough, the crust is thin and, the inside is filled with cassava, green beans, pork, and shrimp. Serve with raw vegetables and dipping sauce. The cake can make everyone pour their saliva. Xeo cake is a crystallized culture, a type of cake typical for Hanoi junk food.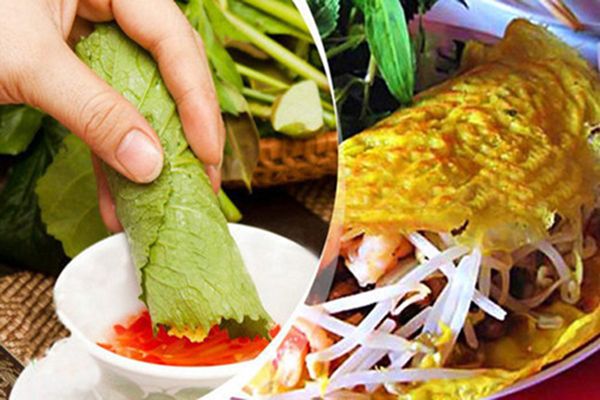 Pancakes originated from the Southern Khmer. The name of the cake is often derived from cooking characteristics when cooking. The cake is cooked with the sound of sizzling from the pan. So, people use the word Xèo to name the cake. Sounds very rustic but extremely memorable.
Pancakes are made with rice flour. The crust is usually laminated to create a crunchy texture. But it depends on the taste of each family to make thin cakes or shoes.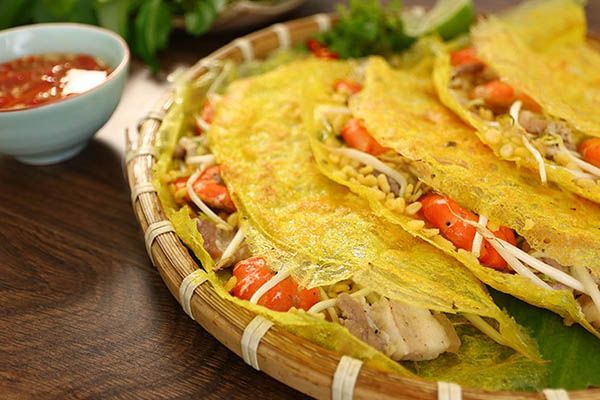 The cake depends on the region and characteristics of the cake to make. But the tradition of making Hanoi Xeo cake is pork, shrimp, and bean sprouts. Sometimes some specific places can use duck or frog instead. In addition, people also use coconut tubers instead of cassava. Eat very special, strange mouth and more delicious.
Vegetable eating along with pancakes is also quite diverse. People use all kinds of wild vegetables such as mustard greens, herbs, young mango leaves, kneading leaves, young cashew leaves, fig leaves, ... Each type of vegetable has different flavors. Users are spoiled for the choice to increase the taste of the cake to eat. The sauce is also a unique feature of the chefs. Each place has its sauce recipe to blend the best pancakes.
To make pancakes, chefs will mix all the ingredients and put them in a crust made of flour. Then, they fry the cake with oil cooked. Pancakes must eat with vegetables and sauces to have the best flavor.
Some delicious pancakes stores in Hanoi
1. Sau Phuoc Banh Xeo Restaurant
Sau Phuoc Pancake is originally a famous Banh xeo shop in Hoan Kiem District with an excellent taste and unique sauce. Yellow, crunchy crust, when eating, you will feel the aroma of turmeric powder, the sweet taste of coconut milk, shrimp meat ... You can freely take more raw vegetables, green mangoes to eat to create a more sour taste.
Address: 79 Cau Dat, Hoan Kiem
2. Tung Huong Noodles & Pancake Store
Although the store is a popular sidewalk, the space is very clean and cool. Pancakes are Crispy, moderate filling but shrimp are bigger than other shops, the impression that each piece is a shrimp. The service staff is fast and enthusiastic.
Address: 5 To Hien Thanh, Hai Ba Trung
3. Thuy Xeo spring rolls and pancakes
Located right on Doi Can street, a small pancake shop that has existed for years has dragged the pace of Hanoi's hurried pace down. Many people come to this delicious pancake shop just to find the traditional cuisine of Hue in the heart of the capital or to enjoy the beat of life.
When eating a piece of crunchy pancake melting in the mouth. Space is not too large but it is enough for you to enjoy a delicious cake in the cold weather of Hanoi. However, the restaurant's waiter is rated by many customers as poor. If this improvement is sure, the restaurant will attract more customers.
Address: 166B Doi Can, Ba Dinh
HAVE A GOOD MEAL!