Hanoi has many delicious dishes such as pho, bun thang, nuggets... but when it comes to drinks, people often think of Hanoi egg coffee. A unique drink with a delicious aroma that makes everyone fall in love with it the first time to enjoy.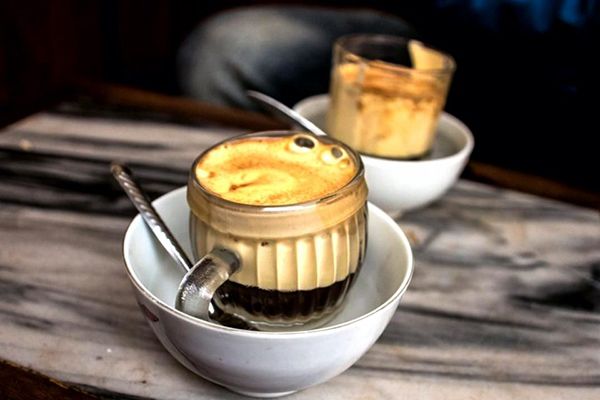 For a long time, egg coffee is no longer a strange name for visitors when visiting Hanoi, everyone is curious to try egg coffee. Because only Hanoi has delicious egg coffee that must enjoy once.
To make this special cup of coffee requires ingredients including coffee, fresh chicken eggs, milk, and sugar. Whipped egg yolks with milk and sugar form a soft, creamy, light yellow cream. After that, people poured hot coffee water into it, making the cream floating slightly on the mouth of the cup looks extremely attractive. In each cup of coffee, the bartender needs to use 2 egg yolks and filtered coffee powder with a strong Vietnamese coffee flavor.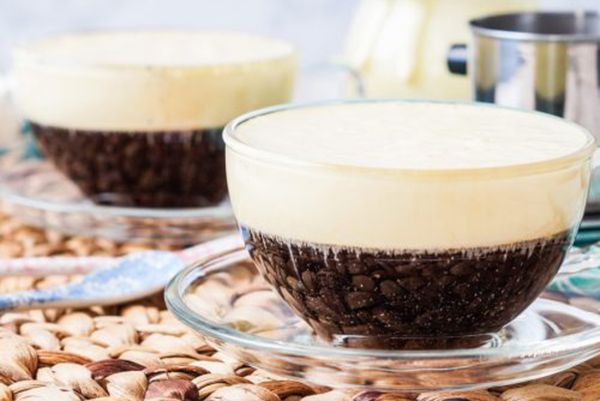 Despite the general formula, each egg cafe in Hanoi has its secret, which can be different from the roasting and grinding of eggs, or each egg has a different flavor. But a common feature is that coffee does not have the sickness and fishy taste of eggs. Like in Giang coffee shop, when bringing a cup of hot coffee, formally placed in a bowl of hot water to keep the coffee warm for long, the drinker can slowly sip the flavor.
The interesting thing about Hanoian drinking egg coffee is also very strange, they are not picky or stylish in luxurious cafes, just gather around the sidewalk stools or in a house in the heart of the area old collective. Guests are ready to immerse themselves in the street. Before there was an egg-coffee store called Dinh coffee, you can sit on the railing and look straight at the windy Sword Lake, but now that seat no longer existed.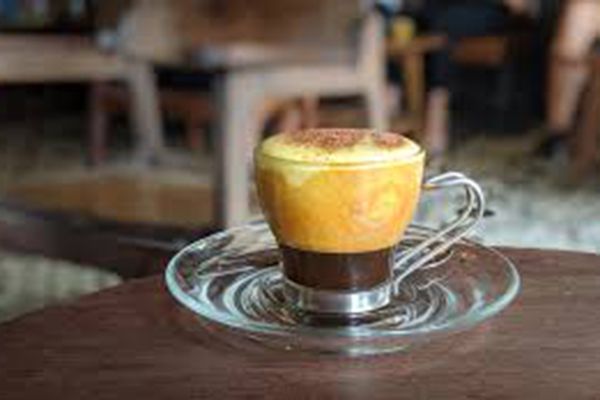 The drinker often sips a little sweet melted in whipped cream, then a little dark and bitter in the coffee, or stir both to balance them all. Although the first drink is a bit strange mouth and a bit unfamiliar, unexpectedly after a few sips always feel ecstatic before the strong sweet taste with the typical aroma of eggs. Many friends from far away come to Hanoi to cherish once to enjoy egg coffee, and many still dream about egg coffee after they have left.
The best time to try this drink is in the winter, the fresh, dense chicken eggs are extremely warm and suitable to drink and broth in the cold days of Hanoi; but year-round, whenever you come to Hanoi, please try this drink!
The delicious egg cafe in Hanoi
Giang Coffee: No one who loves coffee in the capital does not know about this Café, one of Hanoi's "four pillars of coffee": Nhan, Nhi, Di, and Giang. This is the first place to sell egg coffee in Hanoi because its founder - Giang is the creator of this drink. Previously when he was a barista at the Metropole hotel, inspired by the particular cappuccino coffee that made the famous beverage of Hanoi people.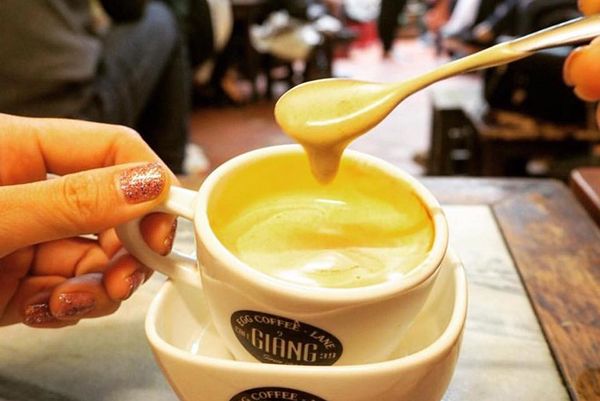 Old Quarter Coffee 11 Hang Gai: is the latest coffee shop but also very popular with tourists because of the rare and nostalgic space. Foreign tourists are often introduced here, holding a delicious egg coffee cup in their hand to leave a deep impression on the customers on the first drink. Beverages in the old town coffee range from 30,000-60,000 VND depending on the type.
Egg coffee is a favorite drink of many Hanoians and tourists both domestically and internationally. I firmly believe that in 5 years, 10 years, 50 years ... this unique drink will be equal to the most natural way to win customers' hearts is to remember Hanoi.
ENJOY YOUR DRINK!