As a special dish, idyllic, right from the processing to enjoying, but bun cha is memorable and makes many souls love food so enthralled. There is no exact milestone to record the birth of bun cha, it is not known who this dish was created by. Only know for a long time, from generation to next generation of Hanoi people are still familiar with bun cha and consider it an indispensable dish in the daily culinary life.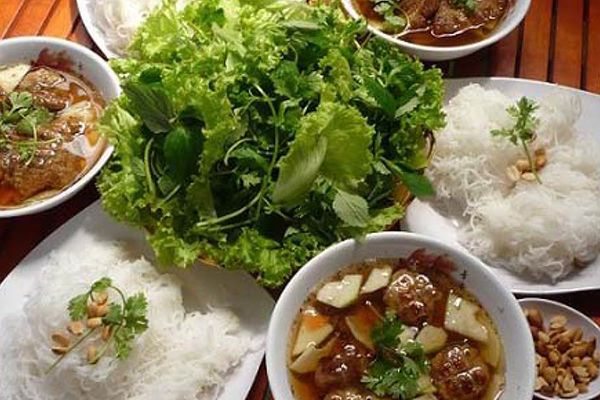 Bun cha consists of 3 main parts: dipping sauce, grilled spring rolls, and vermicelli. Whether a vermicelli noodle dish is good or not is largely determined by the dipping sauce. The vermicelli dipping sauce is mixed with sour, spicy, salty, sweet with sauce, vinegar, sugar, garlic, chili, and the appropriate amount depending on the bartender. Grilled spring rolls have two types: grilled rolls and grilled meatballs, usually they will be made from bacon so that the meat has a certain softness and sweetness. Grilled meatballs are shaped into cubes about a quarter of the palm, marinated, and grilled under a charcoal-red charcoal stove.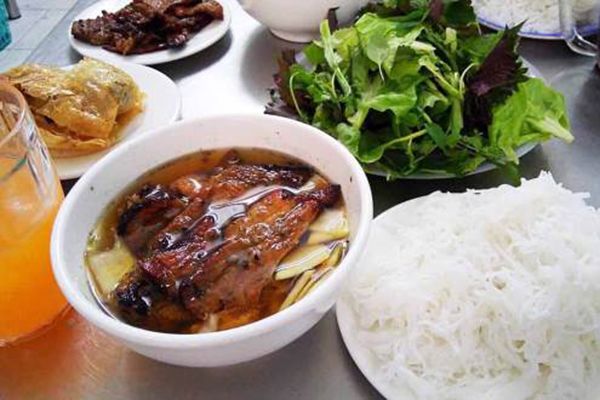 Although it can be eaten at any time of the day, Hanoi people often eat bun cha at lunch. This characteristic of choosing a time to enjoy is considered one of the unique features in the "culinary art" of the capital's people. Sitting on the plastic tables and chairs on the sidewalk, with the white and soft noodle dish and the bowl of warm and red sauce, seems to have become too routine for Vietnamese people.
It is not difficult to find a vermicelli noodle dish in the streets of Hanoi capital, in which, some shops are quite famous and familiar with diners such as "Dac Kim bun cha" in Hang Manh, "Sinh Tu bun cha" in Ta Quang Buu, "Duy Diem bun cha" in Ngoc Khanh, "Huong Lien bun cha" in Le Van Huu, "Ngoc Xuan bun cha" in Thuy Khue, etc.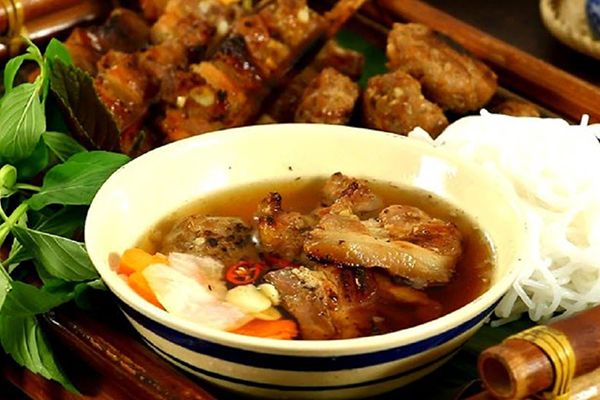 Moreover, not only famous in the country but also bun cha makes international tourists fascinated and constantly mentioned. In 2016, the bun cha dinner of US President Barack Obama and chef Anthony Bourdain in Hanoi created an "extraordinary effect". A famous figure in the world of politicians, and a famous figure in the world of the culinary world, those two souls will meet at the same dish "bun cha". The image of the most powerful man in the world sitting on a plastic chair, eating bun cha, drinking cold beer with a simple and elegant white shirt in Vietnam has become one of the most impressive highlights in the masses for a long time afterward.
Until weeks later, the national and international newspapers discussed the meal as well as the popular but delicious flavored vermicelli.
Not only that, bun cha is being mentioned all over the world as a new representative of Vietnamese cuisine. Almost in the ranking of delicious food in the world of famous newspapers such as CNN or Lonely Planet, bun cha is at the top.
Bun cha is special in its way, not too ostentatious but attractive enough from the simplicity available. Experiencing many ups and downs of history, bun cha still retains its characteristic flavor, maintaining its position as one of the national dishes of Vietnamese cuisine.
ENJOY YOUR MEAL!